Sangre de Cristo Water Services-- Deliver water to SDCR and Forbes Park 719-379-3263

$6.50 per mile to travel to your location, $100 for a 1,000 gallons of water with a 1,000 minimum.

(If your tank is less-- you still pay for the minimum.)

CLICK for Colorado Department of Water Resources Well Permit application
WELLS and SEPTIC
Wells in our area typically are 100-300 deep and cost $30 to $45 per foot. A submersible pump with discharge line and electrical hook-up can add another $1200. Many vacation homes use hauled water, in lieu of a well. A 1000 gallon above ground tank, with a 12-v pump will typically cost $1000.( This needs to be secured and emptied in the fall) . A winterized water system with 1500 gallon buried tank, a buried pump house with pressure tank , and a heat tape wrapped pipe leading into the home , installed by a contractor will cost $4000 . Water is available for $10/ 500 gallons at the San Luis Water Department and several people have a tank on a trailer to haul their own water. We have a water hauler, that will deliver up to 3000 gallons for $120. A 1000 gallon septic tank, delivered and placed into a hole runs $650. Connection piping and perforated distribution piping will cost about $600. Excavation and backfill can add another $500. A permit is required and a percolation test, that costs $375. All together, a septic system will cost from $2200-$2500 if the owner gets the permit, witnesses the perc test, and installs the piping. A turn-key job by a contractor will run $3500 -$4000 ( February 2008)
EXAMPLE OF A TANK/CISTERN SYSTEM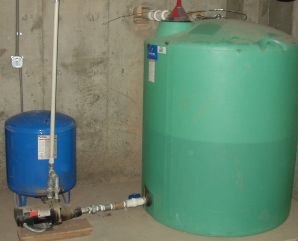 Sattler Basement
Click for a YouTube of one couple's Septic system, permitting, and information.
Alternate Power and Propane Systems
About half the people in the non-incorporated areas of Costilla and Alamosa Counties rely on alternate systems. They usually have one to four solar panels, one or more wind generators, a 12-v to 120v converter and a battery pack as a power source and that is usually backed up by a 1000-w- 5000w gasoline generator.
They will have a 200-500 gallon propane tank with propane delivered on a regular basis by several reliable local vendors ( We use Monte Vista Cooperative).
Propane is used for gas cooking, baking and heating. Many people have wood stoves and use wood as their main heating fuel. There are regular "Woodfests" scheduled several times each year, where people go up into private forests and cut down dead trees for firewood, and they are charged $10 per pick-up load.
Most people are familiar with the propane refrigerators and freezers in recreational vehicles. Full size propane refrigerators and freezers are available from Servel and other manufactures and these usually cost $200 to $300 more than the same size electric model. These have a long life, are quite efficient, and actually cost less to operate, than similar electric models.
A starter power system ( good for 120-watts for 4 hours) costs about $1,500.
This is enough to run a 13" TV/VCR, a couple of 14 watt fluorescent bulbs, to recharge cell phones and lap tops, and to provide a control voltage to the propane refrigerator.
A medium system, ( 1500 watt-hours) professionally installed, with the solar panels on sturdy racks, pointing in the best southerly direction, will cost about $10,000. Sunny Daze in Blanca is a reliable vendor for these systems- more about them on our CONTRACTORS page.
A full size system, that allows microwave, vacuum cleaners, large electric motors, etc can cost $20,000+
But all of the people that use alternate systems always comment how nice it is not to get utility bills, other than propane.
ELECTRICITY
Xcell Energy provides power in this area. They have an office in Alamosa and you can get definitive information from them by calling (719) 589-1204. There a many areas without power in Costilla County which makes it ideal for SOLAR, WIND, and GENERATORS. When we have parcels "near" power, we will specify, otherwise consider that there is no power. It costs about $4/ft to bring power to a property. Usually, a step-down transformer that converts the 6900 volt incoming power to 120/240v is needed, at a cost of about $1200.
TELEPHONE
Telephone service to the area is provided by Blanca Telephone located in Alamosa. They provide excellent cellular service in the entire area and also have land lines available. They also have internet and there are several other places in Alamosa that will hook you up to internet. Blanca Telephone has land line connectors in most of the SLVR Area, and do a up to 700' installation for under $100. They charge about $0.50 per foot for longer distances.
Land lines are also available in the lower elevations of the SDCR Area and throughout the Forbes Park Area.
Internet and Wi-fi Information in this area